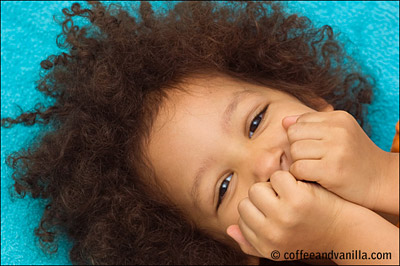 My 4 year old daughter is mixed race, so are her hair… very curly after daddy but thin and soft after me. I can't just treat them like my European hair or like her father's Caribbean hair and without proper care they are turning into knots that are almost impossible to untangle (see image above). Until recently I've been using mostly one hair product that was helping to define curls without making them too sticky (Mixed Chicks leave-in conditioner), I wrote about it here, it's a great product… but I don't like depend on one brand. What if I can't get it anywhere for couple of weeks?? That is what has happened recently and I remembered about great blog: Tightly Curly by Teri, that I have found quite a while ago. I decided to try her combing method and it worked great for me… I mean my daughter's hair.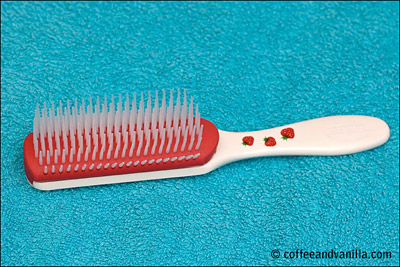 I went to local hair care product store and first of all I got recommended by Teri – Denman brush… That is the best brush I ever used! I went for D3 Tutti Frutti Range strawberry shortcake fragranced one, but they have lots of different types for adults as well. Before I was using comb with big teeth, it was good but I found this brush much, much better for getting rid of hair knots.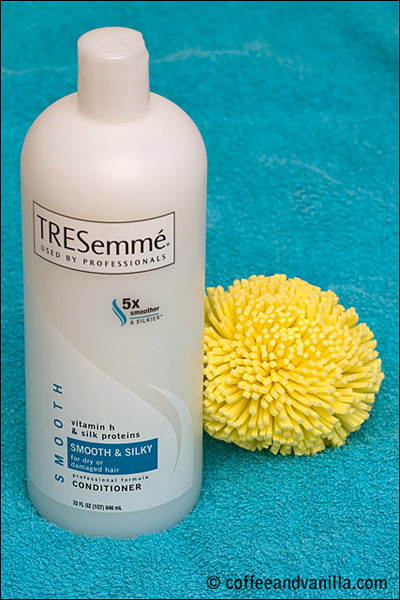 Then I got one of recommended by Teri conditioners for combing and leaving in, the only ones I could find were TRESemme Smooth & Silky & Nexxus Hydra Sleek (this one cost £16 in UK so I skipped it this time)  but there is many more good ones and they are probably easier to find in US then here in UK, check Teri's list for that.
I got also sleeping hair net for my daughter, because in the night her hair get the most tangled as they are too short for plating.
Here is how to care for your little one's hair in few easy steps:
Prepare bubble bath, give your child some toys and wash hair her/his with good shampoo (I used Johnson's  Baby shampoo).
Rinse properly and apply generous amount of recommended conditioner (used handful of TRESemme Smooth & Silky).
Comb wet, soaking in conditioner hair using Denman or similar brush (your child can play during this time in the bath), if necessary wet the brush from time to time while combing, do not rise off the conditioner or towel dry the hair.
Once you are done with combing let your child wear something warm robe and continue the rest outside the bath tub.
Separate curls twisting one by one around your finger and let the hair dry by itself, I wouldn't recommend blow drying but you can make house nice and worm so your child won't get sick and hair will dry faster. I occasionally (on very cold days) do use blow drier but I do not point it directly on hair, just make air warm around my daughter's head.
When hair are dry and crispy they have set properly and within few hours they will turn into nice, soft, light curls ;)
Use sleeping hair net for the night or plat the hair.
In the mornings just apply with wet hands on curls that lost definition a little bit more of the same conditioner  or to make it easier you can disolve a little bit of conditioner you were using to comb the hair in water inside spray bottle. I got one in IKEA with adjustable water jet… it works perfect. I can just spray the hair all over and define curls with my fingers afterwards.
You should be able to repeat previous step in the mornings for the next week or so until next wash.
Avoid combing dry hair, just refine messy curls with wet fingers and/or conditioner.
To learn more and watch some really useful videos visit Teri's blog.
It is hard to make little child not to mess her/his hair afterward, they love to roll, play with each other  hair, put hats on, change clothes… so be patient. They also move plenty in bed, that is why I start using net on my daughter's hair when she goes to bed, but it does not work perfect, in the morning most of the time the net is half way out, but at least some of the curls are saved  ;)
Here are my daughter's hair just after applying all mentioned steps, still a little wet but in couple of hours they will turn into beautiful soft curls.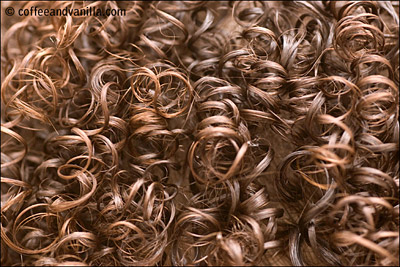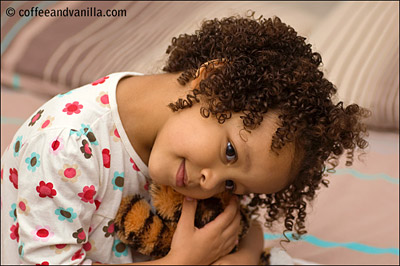 And here are hair after almost a week… a little bit messy but still curls are quite well defined.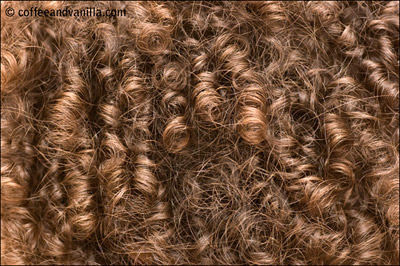 I additionally use,  on night before I'm going to wash her hair, Naturally Sexy – Shea Hair & Body Butter that I apply to dry ends.
If you don't have time for all that just wash hair, apply conditioner and let you child come out from the bathtub. While combing make sure curls are nicely separated. Let the hair dry, next day refine messy curls with some more conditioner and wet hands (index finger) as above. This way combed hair won't last the whole week but at least for the few days curls will be well defined.