Lunchbox # 33 (for 4 year old girl)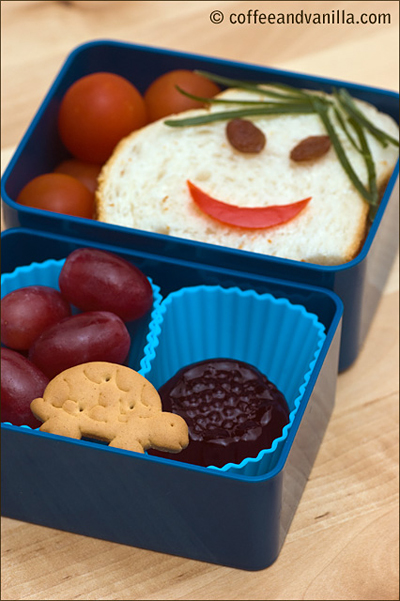 sandwich made of tiger bread, butter, turkey breast and cucumber slices, face on the sandwich made of raisins for the eyes, red pepper for the mouth (cut out with round cookie cutter) and cucumber peel for the hair (cut with lemon zester)
5 cherry tomatoes
homemade fruit tea jelly in silicone muffin case (recipe here)
mini turtle shaped biscuit
red grapes in silicone muffin case
250 ml mango & papaya fruit tea in a bottle
mini fromage frais + spoon (not pictured)
mini Lonely Tunes tissue package (not pictured)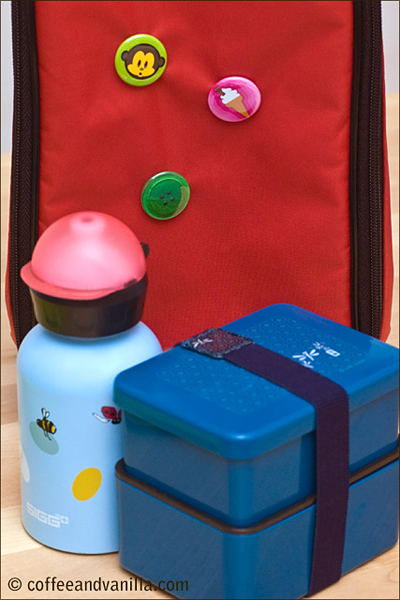 Everything closed in a lunchbox with a strap, placed together with large ice pack in an insulated lunch bag. That is the old lunch bag after her older brother that we washed and decorated with some cute badges… for now, until we will find the one she wants, with Charlie & Lola… previous one with Winnie the Pooh is not favourite any more, apparently Winnie is for boys not girls.
More lunchbox ideas can be found here: Lunchbox Food.
And here you can read about Packing Children Lunches.
---
This is my entry for my own event: "Wholesome Lunchbox". If you want to participate, please send link to your entry before 15th of each month.