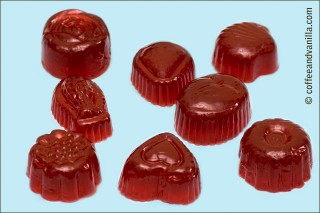 INGREDIENTS
2 cups of water
2-3 sachets of natural fruit tea  (I used plum & pomegranate tea)
2 x 12g sachets of gelatin or Vege-Gel or 6 gelatine leaves (about 10g)
3 tbs of golden caster sugar or to taste
EQUIPMENT
2 x chocolate/jelly moulds (ice cube tray size)
METHOD
If using Vege-Gel, dissolve it in a pot with half of the cold water, then heat but not not boil. With other half of the water, sugar and tea sachets make fruit tea, discard tea bags. Once Vege-Gel is dissolved combine both liquids and pour to the moulds.
If using gelatin just boil water for tea, in a jug place hot water, tea sachets and sugar, once tea is strong discard tea bags and sprinkle tea with gelatin, stir until all gelatin granules are dissolved, pour jelly to the moulds.
Leave in cold place to settle, keep refrigerated.
Once jelly is settled place containers for couple of second under hot tap water, but make sure not to wet jellies. Then  flip the mould over, tap few times and jellies should come out.
This recipe make about 16 jellies more or less 3-4cm wide.
Those jellies have twice more gelatin that jellies I use to make before, thanks to that they are stronger and can last longer outside the fridge (for instance in lunchboxes).