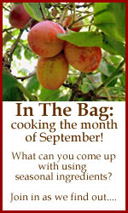 This is my entry for September edition of "In The Bag", joint food blogging event hosted this month by Scott from Realepicurean.
The September bag contains seasonal fruit so I decided to make something with nectarines.
Nectarines came originally from China but they were grown in Great Britain from 16th century and they are available from June till late September.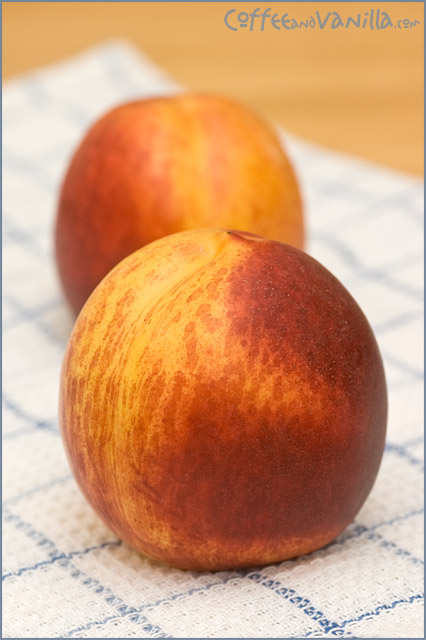 Fruity Cheese Cake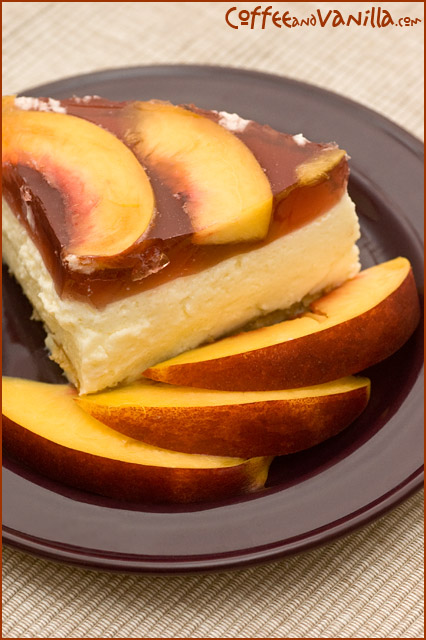 INGREDIENTS
3 eggs (separated)
⅔ cup white sugar
2 tbs vanilla sugar
500g fromage frais or other natural soft white cheese
½ cup milk
125g unsalted butter (½ bar)
two 20-24g packets of gelatine of Vege-Gel (for vegetarian version)
2 cups clear natural red juice (I used red grape juice)
2 ripe nectarines or peaches (can be replaced with peaches from the tin or some other fruits)
150g Belgian butter waffle crisps
EQUIPMENT
9" (22,8 cm) or smaller round cake tin
METHOD
Cover bottom of the cake tin with waffle crisps.
Melt butter and leave aside to cool down a little bit.
Combine yolks with sugar in a mixing bowl and stir till mixture is almost white and there is no more sugar visible.
Add melted butter and mix again.
Heat milk and dissolve in it half of the gelatine (20-24g), add to the bowl with sugar and eggs.
Add also fromage frais. At the end stir into the mixture beaten egg whites and pour mixture to the cake tin on the top of waffle crisps.
Place in the fridge and let cheese layer to get firm up. It can take about 2 hours.
Take out from the fridge, slice nectarines and arrange on the top of cheese layer.
Heat juice but do not boil, add the rest of gelatine (20-24g) and stir till gelatine dissolve completely and leave it aside to firm up a little bit.
Pour jelly over fruit layer. Place in the fridge for another 2 hours.
Serve cold.