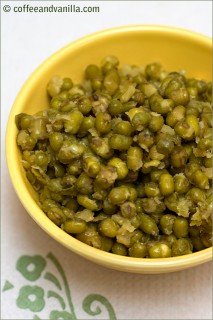 INGREDIENTS
for chilli and curry couscous
500g couscous
1 tbs Vegeta or other vegetable stock granules
1½ tbs mild curry powder
1 tsp chilli flakes
3 tbs Carotino oil
400g tin of chopped tomatoes
boiling water
1 garlic head (peeled and chopped) or ½ tbs garlic granules
2 onions (chopped)
for buttery mung beans
500g mung beans
50g unsalted butter
1 tbs Vegeta (vegetable stock granules) or salt to taste
Cayenne pepper to taste – optional
EQUIPMENT
large frying pan or wok to prepare couscous
non-stick pot with lid to cook mung beans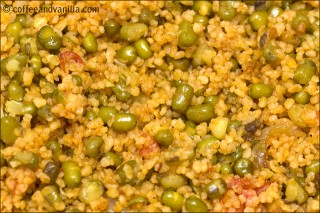 METHOD
In a saucepan cook rinsed beans with lots of water, bring to boil, reduce fire and cook covered ready and soft, about 20 minutes.
In meantime fry on oil garlic (if fresh is used) and onions until golden brown. Stir in chilli flakes, couscous, curry powder, garlic granules if used and stir heating all the time until hot, now add also chopped tomatoes and gradually water. Continue heating stirring constantly until couscous is soft but not too sticky.
When beans are cooked drain them if necessary, then season with Vegeta or salt to taste, butter and stir until butter is melted.
Now you can serve couscous mixed with mung beans or you can serve them as separate side dishes. Then you can add a little bit of Cayenne pepper to mung beans.
Serve 6 people as a side dish or lunch.
Mung Beans can be replaced with green lentils.