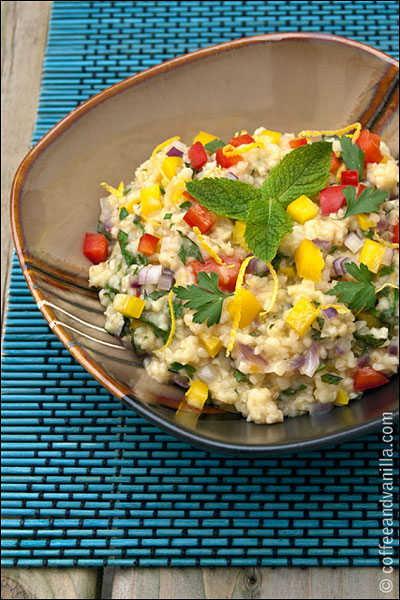 INGREDIENTS
250g bulgur wheat / 1¼ cup
5 cups / 1¼ litre of boiling water
3 vegetable cubes (10g each)
medium red onion (diced finely)
1 red & 1 yellow or orange bell pepper (diced finely)
3 garlic cloves (chopped or squeezed)
handful of chopped mint / 15g
handful of chopped flat leaf parsley /15g
1 lemon zest
½-1 lemon juice – to taste
3 tbs extra virgin olive oil
sea salt – to taste
black pepper – to taste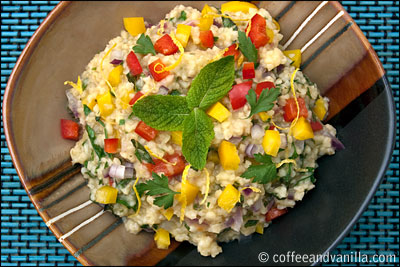 METHOD
Prepare the stock dissolving cubes in boiling water.
Place bulgur wheat in a pot together with stock, bring to boil, cover and simmer for 15 minutes.
Turn of the fire, keep covered, leave aside for another 15 minutes.
Once all stock is absorbed break the bulgur with a fork.
Add half of the lemon juice, lemon zest, onion, peppers, garlic, mint, parsley and olive oil, mix well.
Season to taste with sea salt and cracked pepper and some more lemon juice if necessary.
Serve either warm or at room temperature, alone as a salad or with some fish as a side.
Serve 4-5 people.
NOTES
This popular salad originates in Syria & Lebanon.
Tabbouleh taste particularly good with smoked mackerel.
When preparing bulgur wheat do not follow the packet instructions if they are saying 1 part bulgur and 5.5 parts of water, it will turn too watery, proportions 1:4 should be fine.